Nachdem sich London am Tag der Ankunft trotzig regnerisch präsentiert hatte, war es heute deutlich versöhnlicher. Das Lachen der Sonne wurde nur von wenigen Wolken unterbrochen, während der Stadt ihre schönen ecken zu Fuß und via Tube entlockt wurden.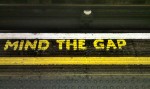 Tower of London, Towerbrige, Piccadilly Circus und Big Ben waren einige der Stationen. Und dazwischen immer mal wieder U-Bahn, wo es jedes mal, wie zur Erinnerung das man in England sei, das Landestypische "Mind the gap" schallte.
Ansonsten wäre es leicht zu vergessen gewesen, denn an vielen Ecken quer durch die Stadt verteilt waren deutsche stimmen zu hören. Jung wie Alt, Hochdeutsch wie Dialekt, alles war vertreten und mische sich, wie französisch und viele Sprachen mehr, unter das Englisch der "Einheimischen".